402 Family Izod and Charpy Impact Strength Test Machine, 404D Family Drop Dart Impact Tester
405 Family Elmendorf Impact Resistance Test Machine,
420 Family Guided Ben d& Tensile Test Hydruali cFixture
4115-D2210 Mullen Test Burst Tester, 4625-D1238 Melt Flow Indexer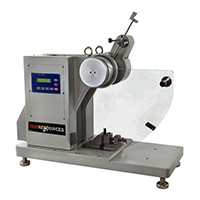 Izod and Charpy Impact Strength Test Machine
The Izod digital impact tester from TestResources is a low energy impact machine for testing the impactresistance
of plastic specimens. The machine can be equipped with 5 different hammers to change the potential energy of the
system. The machine features a digital controller that calculates impact energy and impact angle. The impact
resistance can be used to determine impact stress by entering the specimen size into the machine. The machine
used a non contact sensor to reduce friction while measure the angle of the arm, resulting in less than 2.5% energy
loss. The machine is equipped with both a manual and automatic start. The 402J is also built to dampen out
harmonic oscillations during the test.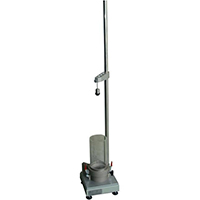 Drop Dart Impact Tester
The 404D Series test machine also meets the requirement of ISO 7765-1, which has very similar content to ASTM D1709.
Impact resistance of plastic films is determined by dropping a hemisphere dart head directly into the film from a specific
height. The weight of the dropped dart is changed until a 50% failure rate of the film occurs.
FEATURES & BENEFITS
Single axis to 6 axis vibration
Frequency 0.01 to 50 Hz
Displacement up to 250 mm(10 inches)
Table size 3m x2m (10 x6.7 foot)
Low friction low maintenance swivels
Powerful digital controller for synchronous multi-axiscontrol and data acquisitionith power saving 'Green' features.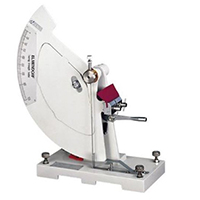 Elmendorf Impact Resistance Test Machine
The 405 Series test machines is used to determine the tear force of
paper, fabrics, and plastics. Notched specimens are struck by a
falling pendulum and the energy required to tear the test specimen
is determined. This machine can be used to test a number of
standard tests including the following: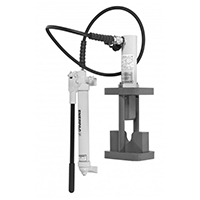 Tensile Test Hydraulic Fixture
FEATURES & BENEFITS
Three models -15, 25, and 50 ton force ratings
Optional choice of materials to meet codes
Optional Electric Pump
For use in the field or in the shop
For both Guided Bend and Tensile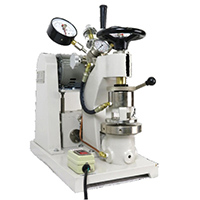 Mullen Test Burst Tester
The Mullen Test Burst Tester is made specifically to measure bursting strength using oil pressure.The
machine is designed to measure the force required to crack the grain of leather by steady hydraulic
pressure on a diaphragm of definite diameter applied to the flesh side of the specimen to form a sphere.
This machine can also be used to test burst strength in raw paper, corrugated paper, synthetic leather and
fiber.
This easy to use machine allows you safety and control of your test. Gauges on this pressurized tester
ensure repeatability with equal pressure for each test. The 4115-D2210 Mullen Test Burst Tester tests
bursting strength in accordance with the following standards:
FEATURES & BENEFITS
ASTM D2210, TAPPI TT403, JIS L1096/L1018/P112/P8131
This Mullen Test Burst Tester can also be configured to test per many other standards such as ASTM D774, ASTM D751, TAPPI T807, and muchmore.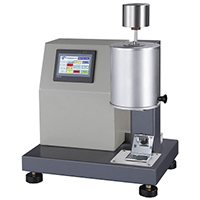 Melt Flow Indexer
Melt Indexer is made according to ASTM D1238. MI value means to measure
polymeric material at certain temperature and under fixed load, the flow extrusion
weight within specific time. Therefore, melt Indexer can test melt polymeric material
flow speed rate, the higher M1 value means fluidity is also higher.